One quality that sets Gabriel Portraiture apart from other studios is our depth of mastery in many areas of portraiture. We excel at adapting our style to your needs. Whether you are seeking a portrait study of your child in the style of the old renaissance masters or a sophisticated fine art black and white family portrait, you don't have to look any further than Gabriel Portraiture to find the expert.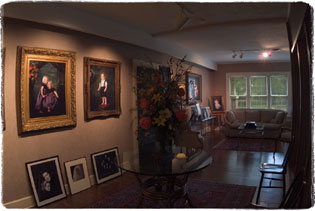 We can accommodate all of your needs including lifestyle portraiture on location, business and public relations, exquisite bridal portraits, and one of our favorites - pets.
At Gabriel Portraiture, we believe that exceptional portraiture requires careful planning with our clients. Only then can we succeed in capturing the true essence of our subjects and expressing their relationships to each other in a work of art that fulfills our client's desires. That's what makes our portraits so pleasing to our clients and so personally rewarding.
With your help, your portrait can be a work of art of a truly personal nature. Used as a decorative focal point in your home or office, it will be an expression of your personal style as well as a subtle reflection of your good taste and appreciation of fine craftsmanship.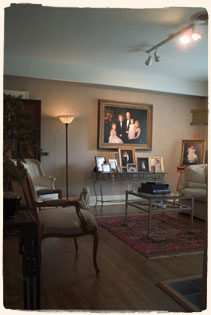 Having your portrait made at Gabriel Portraiture goes beyond a portrait sitting; it is an experience. Our goal is that the time you spend with us is enjoyable and memorable and that the portrait we create for you will become an heirloom that your family will cherish for generations to come.
Your satisfaction is guaranteed.
We pledge to not only meet your expectations but to exceed them. If you are not completely satisfied with your portrait, we will do whatever it takes to make it right.

The overall impact of your portrait is greatly influenced by the frame that encases it. At Gabriel Portraiture we have access to a wide variety of quality frames. Let us help you select a frame that will bring out the full beauty of your portrait and allow it to shine. Buy your frame from us and we will frame your portrait at no additional cost.

Do you have a cherished old photograph that has faded or is damaged? We can help. Using the advanced technology available today combined with our artistic expertise, we can restore your photograph to its original beauty.